Afrokokoroot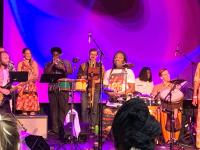 Contact Information:
Sunny Dada (818) 534-6357 sunnydee1ng@icloud.com
Doug Gross (503) 863-1112 dougscott@gmail.com
Web Links:
Description:
Afrokokoroot is a 12 piece world music group featuring Nigerian Sunny Dada on lead vocals and a colorful cast of instrumentalists and singers, including guitar, bass, drums, percussionists, dancers, and background singers. It is a very interactive musical experience that crosses all borders. In their own words, "The word "afro" means Africa-centric, "koko" means the epicenter of events, and "roots" simply tells you that everything about Africa revolves around what we do as a band."
Personnel / Instrumentation:
Sunny Dada - vocals/percussion, Doug Gross - guitar, Joshua Cook - drums, Grant Alan - bass, Adam Kirincich - keys, Tou Manigat-Chatman - percussion, Jonathan Skinner - trumpet, Bunmi Oboh - background vocals, shekere.