Member Profile
Primary tabs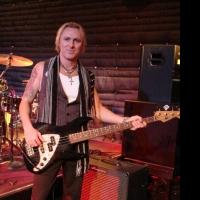 PRIMARY INSTRUMENT(S):
Acoustic Bass

Bass Guitar

Electric Upright Bass

ADDITIONAL INSTRUMENT(S):
TYPE OF WORK DESIRED:
TOURING

RECORDING

CLUB GIGS

PRIVATE PARTIES

TEACHING MUSIC LESSONS

Other

CHART READING/WRITING SKILLS :
Number Charts:
WRITE

READ

Chord Chart:
WRITE

READ

HOME STUDIO :
Home Studio:
Yes

No

ENGINEER :
Engineer:
Yes

No

ADDITIONAL SKILLS :
Additional Skiills:
PRODUCER

ARRANGER

BAND LEADER

ROAD MANAGER

Other

Resume / Bio:
Robby Wilson, bass player/producer/songwriter, was raised in Moss Point, MS. He got his first bass guitar at the age of 12 and a few years later he took off to LA to chase his musical dream! During the 16 years he spent in LA, Robby worked with countless artists and producers. He played bass with several artists including Toy Roz (BG Records), LSD (Warner Brothers), and Dead, White, and Blue (MCA). Robby has recorded bass tracks on everything from rock to gospel records. He has worked with producers like Rich Mouser, David Z. (Prince), John Pele, Garth Richardson (Rage Against The Machine) and Gene Simmons of KISS to name a few. He has been busy in Nashville for the past several years. Once he landed in Nashville, he began touring with artists like Paul Brandt, Lane Turner and Keith Anderson. Robby also spent several years playing bass for the band Halfway to Hazard which was part of Tim McGraw's "Live Your Voice Tour". When Robby is not touring, he is busy in Nashville producing albums for country music's up and coming artists like Jason Meadows (2005 Nashville Star runner up) which had two top 10 singles on the Texas charts. Robby also produced a compilation album for the Wounded Warriors Organization called "Standing United: Volume1" featuring Tim McGraw, Nickelback, and Big & Rich. This CD is now available on iTunes. Robby is currently on tour playing bass for the multiplatinum award winning band, Lonestar.