Member Profile
Primary tabs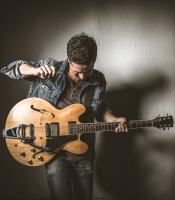 PRIMARY INSTRUMENT(S):
Guitar

ADDITIONAL INSTRUMENT(S):
TYPE OF WORK DESIRED:
TOURING

RECORDING

CLUB GIGS

PRIVATE PARTIES

TEACHING MUSIC LESSONS

Other

CHART READING/WRITING SKILLS :
Number Charts:
WRITE

READ

Chord Chart:
WRITE

READ

HOME STUDIO :
Home Studio:
Yes

No

ENGINEER :
Engineer:
Yes

No

ADDITIONAL SKILLS :
Additional Skiills:
PRODUCER

ARRANGER

BAND LEADER

ROAD MANAGER

Other

Description:
Electric and Acoustic guitar, Background vocalist, Dobro, Mando, Ganjo.  Ability to be band/session leader.
Resume / Bio:
Since pick­ing up the gui­tar at age thir­teen, Corey Con­gilio has been steadily form­ing a solid mu­si­cal foun­da­tion built upon hon­esty, in­tegrity and re­spect for his art form. Born and raised in Phillips­burg New Jer­sey, Corey was ex­posed to music from his fa­ther, mother and gui­tar play­ing un­cles. This ex­po­sure to music of all types at an early age, helped to lay a foun­da­tion of pas­sion, ver­sa­til­ity and ap­pre­ci­a­tion of what music is, where it comes from, and what it should be.
Re­al­iz­ing at an early age that music and the gui­tar would be his life's focus, Corey moved to Pitts­burgh, PA to at­tend the Art In­sti­tute Of Pitts­burgh. There, Corey stud­ied audio en­gi­neer­ing but, didn't get into music pro­duc­tion of­fi­cially until a few years after grad­u­a­tion. In the late 1990's Pitts­burgh had a vi­brant music scene rich with blues, RnB, and orig­i­nal Rock. Corey shot up through the ranks by hang­ing out with the city's best play­ers who helped in hon­ing his skills and over­all mu­si­cal ma­tu­rity.
In 2005, Corey pro­duced his first EP for a local coun­try artist and his love of the stu­dio began to blos­som. Corey be­came an in de­mand ses­sion player in Pitts­burgh and began to pro­duce pro­jects for singer-song­writ­ers. His pro­jects ran the gamut of styles that showed off his abil­ity on in­stru­ments other than the gui­tar.
Over a 10 year pe­riod as an in­struc­tor, Corey has taught hun­dreds of stu­dents rang­ing in age from six to eighty years old. A decade's worth of gui­tar in­struc­tion helped to con­nect Corey to the world's leader in on­line gui­tar in­struc­tion, Truefire.​com. Corey re­leased his first of­fi­cial True­fire course en­ti­tled 50 Texas Blues Licks You Must Know in 2011 and his fate as a world­wide gui­tar in­struc­tor was sealed. Since the re­lease of 50 Texas Blues, Corey has re­leased sev­eral other top sell­ing courses for True­Fire and con­tin­ues to work on new ma­te­r­ial for up­com­ing re­leases.
His pas­sion for teach­ing and pre­sent­ing lends it­self to the world of mu­si­cal in­stru­ment demon­stra­tion as well. Since 2007, Corey has been a clin­i­cian for Fish­man Trans­duc­ers and has re­cently signed on to work with the most iconic acoustic gui­tar maker in the world, C.​F.​Martin Gui­tar & Co.
The com­bi­na­tion of being a multi-in­stru­men­tal­ist and hav­ing a solid back­ground in all con­tem­po­rary mu­si­cal gen­res meant that Nashville, TN would even­tu­ally be­come Corey's new home. Corey moved to Nashville in 2013 and has begun work­ing in what he feels is the "best city for music in the world." Cur­rently Corey is per­form­ing with and pro­duc­ing mul­ti­ple acts as well as record­ing his solo EP due to be re­leased in 2014