Member Profile
Primary tabs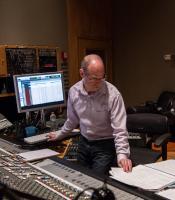 PRIMARY INSTRUMENT(S):
Drum Programmer

Drums

Engineer

Guitar

ADDITIONAL INSTRUMENT(S):
TYPE OF WORK DESIRED:
TOURING

RECORDING

CLUB GIGS

PRIVATE PARTIES

TEACHING MUSIC LESSONS

Other

CHART READING/WRITING SKILLS :
Number Charts:
WRITE

READ

Chord Chart:
WRITE

READ

HOME STUDIO :
Home Studio:
Yes

No

ENGINEER :
Engineer:
Yes

No

ADDITIONAL SKILLS :
Additional Skiills:
PRODUCER

ARRANGER

BAND LEADER

ROAD MANAGER

Other

Resume / Bio:
Over the last thirty plus years, producer, recording and mix engineer Dan Rudin has amassed thousands of hours in studios across the country, receiving two Grammy's and several gold and platinum records in the process.
Fascinated by music and technology from an early age, Rudin spent his teenage years building guitars and amps, playing video games, and writing and recording songs with friends in his bedroom "studio". Dan began his career working as a studio runner and general assistant in Boston, MA while still in high school. After studying music (jazz guitar) and electrical engineering at the University of Miami in Miami, FL, he moved to NYC to take an entry level job at the Hit Factory studios on 54th St. He went on to work at New York's Record Plant Studios and eventually became chief staff engineer at Grandslam Recording in West Orange, NJ. Surrounded and mentored by some of New York's best engineers and producers (William Wittman, Doug Oberkircher, Rick Kerr, Kooster McCallister), Rudin used the opportunity to learn and polish his engineering skills.
Since 1989, Rudin has called Nashville, TN his home. Working as a freelance engineer/ producer in studios around town and around the country he quickly established himself as a reliable musical and technical voice in rock, pop and jazz recording. He became a frequent contributor to projects by producers Richard Dodd, Peter Furler, Tommy Simms, Chris McDonald and Joe Baldridge. In 2006, after almost 2 decades as a studio nomad, he opened his own facility, My Space Recording, at the former site of Nashville's venerable Money Pit studio.
In addition to his extensive record and film work, where his client list includes Riders In The Sky, Pixar, High School Musical 2, Chayenne, Matt Belsante, Tommy Torres, Billy Dean, Wynonna, Flick, The Newsboys, Puffy, Alberto Plaza and Disney, Dan produces and engineers audio for pretty much anything you can think of. Producing and recording Broadway cast albums and licensing tracks, over 3000 songs for educational curricula, and scoring mixer and score editor roles on original scores for films like "Boundin'", "Sioux City" and "The Pirates Who Don't Do Anything" have proven him a diverse and musical studio veteran.