Member Profile
Primary tabs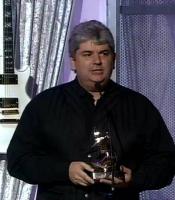 PRIMARY INSTRUMENT(S):
Banjo

Guitar

Mandolin

Vocals

ADDITIONAL INSTRUMENT(S):
Bass


Dobro


Drums & Percussion


Dulcimar


Hamboner


Harmonica


Lap Steel

TYPE OF WORK DESIRED:
TOURING

RECORDING

CLUB GIGS

PRIVATE PARTIES

TEACHING MUSIC LESSONS

Other

CHART READING/WRITING SKILLS :
Number Charts:
WRITE

READ

Chord Chart:
WRITE

READ

HOME STUDIO :
Home Studio:
Yes

No

ENGINEER :
Engineer:
Yes

No

ADDITIONAL SKILLS :
Additional Skiills:
PRODUCER

ARRANGER

BAND LEADER

ROAD MANAGER

Other

FILM DIRECTOR
Resume / Bio:
Dave Moody is an artist, producer, songwriter and filmmaker from North Carolina who now lives in Nashville.   His instrumental proficiency has earned him two Grammy Award nominations and three International CMA Awards as a member of The Moody Brothers. After becoming regular performers on the Grand Ole Opry and touring extensively throughout Europe in the 1980s, the trio of brothers signed a contract with the Walt Disney Company in 1992 to open and perform their own nightly concerts at Disneyland Paris' Disney Village, where they performed for over 50 million guests.
After returning home from Paris, Dave's accomplishments as a solo artist, producer, and songwriter began to flourish. His tribute to legendary guitarist Chet Atkins "Will The Circle Be Unbroken" was nominated for a Dove Award in 2002.  And he won two GMA Dove Awards in 2005 and 2006.  In 2007, Dave was among the Dove Awards most nominated with six nominations as an artist, producer and songwriter.  Today, he heads up Lamon Records Nashville, a 50+ year old label, focused on releasing nationally recognized, regionally relevant and new developing artists.
In 2008, Dave turned a portion of his attention to directing,
 writing and scoring music for motion pictures and television.
 He and his son Joshua started Elevating Entertainment Motion Pictures and their company has released three feature-length films to date.
Dave Moody is a 30 year member of Nashville's AFM 257.  In 2015 he became an Officer, serving as a member of the Hearing Board.