Member Profile
Primary tabs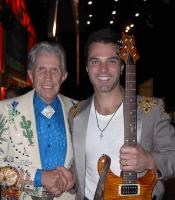 PRIMARY INSTRUMENT(S):
Dobro

Guitar

Harmonica

Mandolin

Steel Guitar

ADDITIONAL INSTRUMENT(S):
TYPE OF WORK DESIRED:
TOURING

RECORDING

CLUB GIGS

PRIVATE PARTIES

TEACHING MUSIC LESSONS

Other

CHART READING/WRITING SKILLS :
Number Charts:
WRITE

READ

Chord Chart:
WRITE

READ

HOME STUDIO :
Home Studio:
Yes

No

ENGINEER :
Engineer:
Yes

No

ADDITIONAL SKILLS :
Additional Skiills:
PRODUCER

ARRANGER

BAND LEADER

ROAD MANAGER

Other

Resume / Bio:
John Bohlinger
Musician/Songwriter/ Writer/ Video Dude for Premier Guitar
     John Bohlinger is a Nashville guitar-slinger best know for  his work in television.  John lead the band for six season of NBC's hit program "Nashville Star" as well as the 2014, 2013, 2012, 2011, 2010 and 2009 CMT Music Awards,  CMT Larry the Cable Guy Christmas Special, the GAC Network's "Next GAC Star",  and several PBS specials including "The Outlaw Trail" and "Legends and Lyrics".  The consummate Nashville sideman, John has accompanied Sheryl Crow, Lee Brice, Miranda Lambert, Joe Walsh, Little Big Town, Kasey Musgraves, Jordin Sparks, Kris Allen, Bret Michaels of Poison, Sara Evans, Leann Rimes,  Chris Young, Tanya Tucker, Trace Adkins, Hank Williams Jr, Kenny Rogers, The Beach Boys,  Alabama, Justin Hayward of The Moody Blues and many others.  A versatile multi instrumentalist, John has recorded master sessions on electric and acoustic guitars, bass, pedal steel and mandolin. 
     John's songs have been recorded by many artist including Joe Walsh,  Chrissie Hynde, and Ann and Nancy Wilson of Heart.  John's musical compositions can also be heard in several major motion pictures and over two hundred television spots.
John writes a monthly column entitled "Last Call" for Premiere Guitar Magazine about the life of a Nashville touring musician.  John is also Premiere Guitar's on line Rig Rundown host and demo dude.
     John is also a writer and co-editor of  A GUITAR AND A PEN, Stories by Country Music's Greatest Songwriter, published by Center Street, a division of Hachette Book Group
Premier Guitar Review Demo samples
TS808
https://www.youtube.com/watch?v=odP4KD8hZDA
Coronado
https://www.youtube.com/watch?v=tcamOyHCBPs&feature=share
Cali 76
https://www.youtube.com/watch?v=nR4HuhERVvM
LP Custom
https://www.youtube.com/watch?v=MRVGhVGvAwc&list=PL6F51E4FB64C2FF4A
Gibson J15 J29
https://www.youtube.com/watch?v=GnyocjY5wqA
HOF
https://www.youtube.com/watch?v=3g2bnNgNkww&list=PL6F51E4FB64C2FF4A
Larrivee
https://www.youtube.com/watch?v=Q1CyAst28Ls&list=PL6F51E4FB64C2FF4A
Moog Trem
https://www.youtube.com/watch?v=TZ0aSYJB3Ug&list=PL6F51E4FB64C2FF4A
Moog Delay
https://www.youtube.com/watch?v=lJsQiA3lnbk&list=PL6F51E4FB64C2FF4A
Taylor
https://www.youtube.com/watch?v=3KMwdnq2eBc&list=PL6F51E4FB64C2FF4A&index=2
Moog boost
https://www.youtube.com/watch?v=h0gHtBNhCKQ&list=PL6F51E4FB64C2FF4A
Sweetwood
https://www.youtube.com/watch?v=lyOcKO2WT6Y
DiPinto
https://www.youtube.com/watch?v=CCWpcHBEmXc
Premier Guitar Rig Rundowns samples
Jonny Lange
  https://www.youtube.com/watch?v=3iyib2FanKE&list=PL13D7650D1E3388E9
The Cult's Billy Dufft
https://www.youtube.com/watch?v=5_qxW_htSnU&list=PL13D7650D1E3388E9