Member Profile
Primary tabs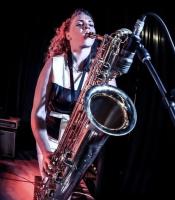 PRIMARY INSTRUMENT(S):
Accordion

Alto Sax

Baritone Saxophone

Bass Clarinet

Composer

Piano

Saxophone

Teacher

Tenor Saxophone

Ukelele

Woodwinds

ADDITIONAL INSTRUMENT(S):
TYPE OF WORK DESIRED:
TOURING

RECORDING

CLUB GIGS

PRIVATE PARTIES

TEACHING MUSIC LESSONS

Other

CHART READING/WRITING SKILLS :
Number Charts:
WRITE

READ

Chord Chart:
WRITE

READ

HOME STUDIO :
Home Studio:
Yes

No

ENGINEER :
Engineer:
Yes

No

ADDITIONAL SKILLS :
Additional Skiills:
PRODUCER

ARRANGER

BAND LEADER

ROAD MANAGER

Other

Description:
I am a multi-instrumentalist & composer. My first and main instrument is saxophone. I have a preference towards Baritone Sax but I do play alto and tenor as well. I have an original album out called "To The Ghost of Mary Rodgers..." I wrote and arranged all the songs. I do original shows where I sing and play piano. I also play accordion, bass clarinet, and ukulele. 
Resume / Bio:
Mary Rodgers is a Nashville based multi-instrumentalist performer, composer, arranger, and private lesson instructor. Hailing originally from Milwaukee, WI, she earned her Bachelor's of Arts Degree in Music on saxophone from UW-Milwaukee. She went on to continue her musical career and education with both Curt Hanrahan (Saxophone instructor), Stas Venglevski (Accordion Instructor), and Greg Drust (Record Archivist/Radio DJ)
In 2013, Mary won the Wisconsin Area Music Industry Award (WAMI) for "Reed/Brass Player of the Year." During this time she was a multi-instrumentalist (Saxophone, Flute, Accordion, Piano, Vocal) for the Milwaukee based circus/variety show "The Dead Man's Carnival". She also played Baritone Sax with the 40's RnB style group "The Uptown Savages" with which she released the 2014 album "Rock & Roll With You". 
Mary is featured on a growing number of albums including the Invaders "Where ya gone?", Midwest Death Rattle's self titled album as well as their sophomore album "Post Apocalypso", Into Arcadia - "Escaper", Hillbilly Casino - "Live in the USA", Jeff Moon - "Bones in the Ground", Susan Anders -"13 Women", Will Payne Harrison single - "Jacqueline", Catfish Seminar - self titled album, Stu Arkoff - "Lester's Bop", Chip Greene single - "Cold Collecting" and various singles and compilation albums worldwide. 
​
In 2015, Mary moved to Nashville, TN where she performs and teaches private lessons on Piano, Saxophone, Clarinet, Trumpet, Accordion and Ukulele. You may have seen her as a freelance instrumentalist playing with groups such as Ronnie Spector, JD McPherson, The Legendary Shack Shakers, Hillbilly Casino, Dale Watson, Celine Lee, The Art Adams Band, Woody Pines, The Cowpokes, The Bullhorn Boys, Nina Massara, The Highjivers, Paul Burch, The Zimmerman Twins, Catfish Seminar, The Willies, Bailey Dee, A Man Called Stu, Lydia Brittan, Samuel Herb, Chip Greene, The Jive Aces, The Go Getters, Jane Rose and the Dead End Boys, The Tip, Loose Lips, Freight Train Rabbit Killer, Heath Haynes, The Starjays, James Cook, and many more. 
​
Mary Rodgers released her own full-length album called "To The Ghost of Mary Rodgers…" in 2019. This 15 track album, containing both vocal and instrumental tunes, was written and arranged by Mary. She brings her unique blend of Circus, Blues, Jazz, and early RnB to life with an array of horns, vibraphone, and creative auxiliary instruments. The album is available on Itunes, Amazon Music, Youtube, Pandora, Spotify, Deezer, Tik Tok and most streaming platforms. Keep an eye out for new releases and tour dates!