Member Profile
Primary tabs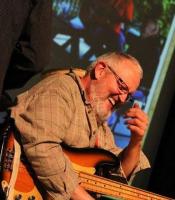 PRIMARY INSTRUMENT(S):
Bass Guitar

ADDITIONAL INSTRUMENT(S):
TYPE OF WORK DESIRED:
TOURING

RECORDING

CLUB GIGS

PRIVATE PARTIES

TEACHING MUSIC LESSONS

Other

CHART READING/WRITING SKILLS :
Number Charts:
WRITE

READ

Chord Chart:
WRITE

READ

HOME STUDIO :
Home Studio:
Yes

No

ENGINEER :
Engineer:
Yes

No

ADDITIONAL SKILLS :
Additional Skiills:
PRODUCER

ARRANGER

BAND LEADER

ROAD MANAGER

Other

Description:
Nashville Session Bassist -  decades of experience recording hit artists, hit songwriters.  Teaching  Worldwide via online theiory and bass lessons . Available also for remote online recording to tracks sent me 
Resume / Bio:
''With a decades- spanning career in the touring and recording field that encompasses genres with his own style and approach, Steve Bryant continues to play sessions in Nashville and teach privately in his home studio and world wide via Skype. He also contributes bass parts remotely to clients regardless of their location on the globe.''
A Partial List of Credits:
RECORDED WITH THESE ARTISTS:
Taylor Swift, Lady Antebellum , Montgomery Gentry , Brooks and Dunn , Trisha Yearwood, Michael Bolton, Justin Moore, Kip Moore, Jamey Johnson, Keith Whitley, Ricky Skaggs, Jerry Douglas,Waylon Jennings, Bela Fleck ,Boone Creek ,Micky Guyton, Linda Davis, Steve Holy, Trent Dabbs, Colt Ford, Walker Hayes, Phil Everly (Everly Brothers), Charlie Louvin, Carolyn Dawn Johnson, Paul Overstreet, Trick Pony .. and tons more..
PRODUCERS:
Stan Lynch (Don Henley), Nathan Chapman (Taylor Swift), Angelo Petragalia (Kings of Leon), Norro Wilson, Lee Thomas Miller (Steve Holy, Amy Dalley), Dann Huff, Chris Lindsey, Chris Farren, Anthony Smith, Brett James, Doug Johnson .. just to name a few.
HIT NASHVILLE SONGWRITERS
James Otto, Brett James, Josh Kear, Mark Irwin, Hillary Lindsey, Gordie Sampson, Rob Hatch, Brett Beavers, Jim Beavers, Lisa Carver, Troy Verges, John Scott Sherrill, Ashley Gourley, Tom Douglas, Bob Dipiero, Ashley Monroe, Shane Stevens, Cary Barlowe, Kent Blazy, Cory Batten, Karyn Rochelle, Sara Buxton, Jim Collins, Trent Dabbs, Tom Shapiro, Angelo Petraglia, Bryan Simpson, Dillion Dixon, Rachel Proctor, Chase Rice, Liz Rose, Greg Barnhill, Lee Thomas Miller, Andrew Dorff, Kelly Archer, Anthony Smith, Chris Stapleton, Ben Caver, Bill Luther. Blair Daly, Brian White, Chris Wallin, Keith Stegall, Josh Kelly, Rivers Rutherford, Chris Lindsey, Amy Mayo, Kim Carnes, Kyle Cook (Matchbox 20), Paul Overstreet, Tony Martin, John Bettis, Big Al Anderson, Shawn Camp, Marc Beeson, Emily Shakelton-James, Ed Hill, Caitlyn Smith, and more.....