Member Profile
Primary tabs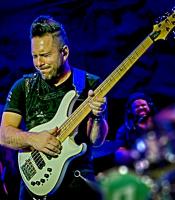 PRIMARY INSTRUMENT(S):
Acoustic Bass

Bass Guitar

ADDITIONAL INSTRUMENT(S):
Vocals (baritone/low-mid tenor)
Keyboards
Acoustic Guitar
Drums/Aux Percussion
TYPE OF WORK DESIRED:
TOURING

RECORDING

CLUB GIGS

PRIVATE PARTIES

TEACHING MUSIC LESSONS

Other

Bus Driver
CHART READING/WRITING SKILLS :
Number Charts:
WRITE

READ

Chord Chart:
WRITE

READ

HOME STUDIO :
Home Studio:
Yes

No

ENGINEER :
Engineer:
Yes

No

ADDITIONAL SKILLS :
Additional Skiills:
PRODUCER

ARRANGER

BAND LEADER

ROAD MANAGER

Other

Bus Driver
Resume / Bio:
In a business where music is quickly becoming consolidated and superficial, Zach Fowler is an example that hard work and talent remain consistent and beneficial factors in the ever-changing music industry.  A bassist and musician who brings an old-school creative mentality to a new musical environment, Zach Fowler is the complete package…a knowledgeable, groove-oriented bassist with a deep pocket, amazing technical ability, uncanny stage presence, and a soulful solidity.
Born into a family that had a wide variety of tastes in music, Zach was exposed to countless genres of music growing up, allowing him to attain a natural sense of groove when he first started playing bass at the age of 14.  Less than a year after picking up the instrument, Zach was playing professionally, and was a standout jazz musician on both electric and upright bass, earning several soloist awards in high school.  Years later, Zach's natural groove ability combined with his years of professional study both in the classroom and on the stage make him one of the most in-demand and highly respected bassists in the country.
Zach studied several areas of music throughout high school and college.  He was a member of several jazz and classical ensembles at the University of New Mexico, where he earned two music scholarships and graduated with a minor in music.  Zach excelled in improvisation and ear training, earning him a place on the nationally recognized University of New Mexico Jazz Orchestra.  During his time at UNM, Zach also studied with noted classical bassist Mark Tatum, former Maynard Ferguson musical director Glenn Kostur, world-renowned fusion bassist Gary Willis, and solo bassist Trip Wamsley.  Zach had the opportunity to perform with legendary jazz artist Benny Golson, along with renowned jazz educators Tim Ishii, Randy Hamm, and Ed Peterson.  Additionally, Zach also played in numerous bands and projects of different genres, which eventually lead to touring.
Zach spent eleven years as bassist and musical director for The James Douglas Show, whose debut album, Garden City Music, garnered acclaim thanks in part to two songs written and arranged by Zach Fowler.  "Words," a track that Zach co-wrote with guitarist and producer Pocket Honore (Erykah Badu, Jada Pinkett-Smith, Morris Day and The Time), is The James Douglas Show's featured single on The After After Party music sampler released by McDonald's and Coca-Cola in 2008.  In addition, Zach was given the "Best Bass Award" by GarageBand.com for his work on the live version of "Forever."  In November of 2008, The JDS released The New Black via iTunes, Amazon, and Rhapsody. "Downtown Playground," a song that Zach composed for the album, became the third most downloaded song in the band's history, as well as the theme song for "The After After Party with Steven Michael Quezada," a regional late-night talk show.  In 2009, The New Black was put on the official Grammy ballot as a consideration for seven Grammy nominations in six categories including Best New Artist.
As a session and studio bassist, Zach has worked with some of the biggest producers and artists in the business, including recent projects with Marc M. Doc Williams (the producer behind the hits "Runaway" by Janet Jackson, "Take A Bow" by Madonna, and Top 40 hits by Mint Condition, Sounds of Blackness, CeCe Peniston, and many others), Hector Delgado (Jamie Foxx, Busta Rhymes, Eminem, Andre Crouch, Angie Stone, D12, and many others), and Mike Cee (Jennifer Lopez, Wendy and Lisa, Mystikal, Baby Bash, and many others).  Zach's recent work also includes Japan's #1-selling pop artist B. Howard, renown vocalist and vocal coach from "The Voice" Romeo Johnson, Universal Japan recording artist Davion Farris, "So You Think You Can Dance" alumnus Kamilah Barrett, award-winning folk trio hONEyhoUSe, and countless others.  Zach has also shared the stage with The Whispers, Debbie Smith, Stokley Williams (from Mint Condition), and many others.
Zach is currently based in Nashville, TN, and serves as bassist and bandleader for Reviver Records country rock duo, LOCASH.  Formerly known as the LoCash Cowobys, LOCASH has a string of hits which include "C.O.U.N.T.R.Y.," "Keep In Mind," and "Best Seat in the House," while also contributing as songwriters to a #1 hit by Keith Urban ("You Gonna Fly") and a Top 10 hit for Tim McGraw ("Truck Yeah").  Their single, "I Love This Life," climbed to #2 on Billboard's Hot Country chart, and was also the #1 country song on satellite radio after taking the top spot on Sirius XM The Highway's Hot 45 Countdown.  "I Love This Life" was also the #1 song on Music Row's Country Breakout chart.  The music video for "I Love This Life" was an exclusive debut on CMT, CMT Pure, and all of CMT's social media outlets, and has surpassed 6,000,000 views on YouTube.  The band's second single, "I Know Somebody," became the band's first #1 single on Billboard's Country Airplay chart, and became LOCASH's second straight #1 on the Music Row Country Breakout Chart.  LOCASH's tour schedule easily surpasses 200 dates per year, often including international dates.  Zach has also appeared with LOCASH on The Today Show (NBC), The Talk (CBS), Fox & Friends (Fox News), and Jimmy Kimmel Live (ABC). 
Prior to joining LOCASH, Zach was the bass player for Elektra/Warner Music Nashville artist Dean Alexander, whose first single, "Live a Little," charted in the Billboard Top 50.  In his short time in Nashville, Zach has also performed with or contributed to noted Nashville artists and producers such as Will Garrett, Josh Thompson, Josh Gracin, Jesse Keith Whitley, and Eric Lee Beddingfield, as well as up-and-coming artists Ross Coppley, Sasha McVeigh, Trig County, Cody Purvis, Dusty Hundley, Blake Hall, Brandt Carmichael, and others.  When not on the road, Zach enjoys performing on Nashville's famous Broadway strip, while maintaining a steady studio and session schedule in Music City.
Zach Fowler uses and exclusively endorses Paul Reed Smith Guitars, Westone Audio, Lectrosonics Inc., NS Design, Gallien-Krueger Amplification, Reunion Blues Gig Bags, Lanikai Ukuleles, Pig Hog Cables, Ernie Ball Strings, Music Man Basses, Hercules Stands, and Radial Engineering.